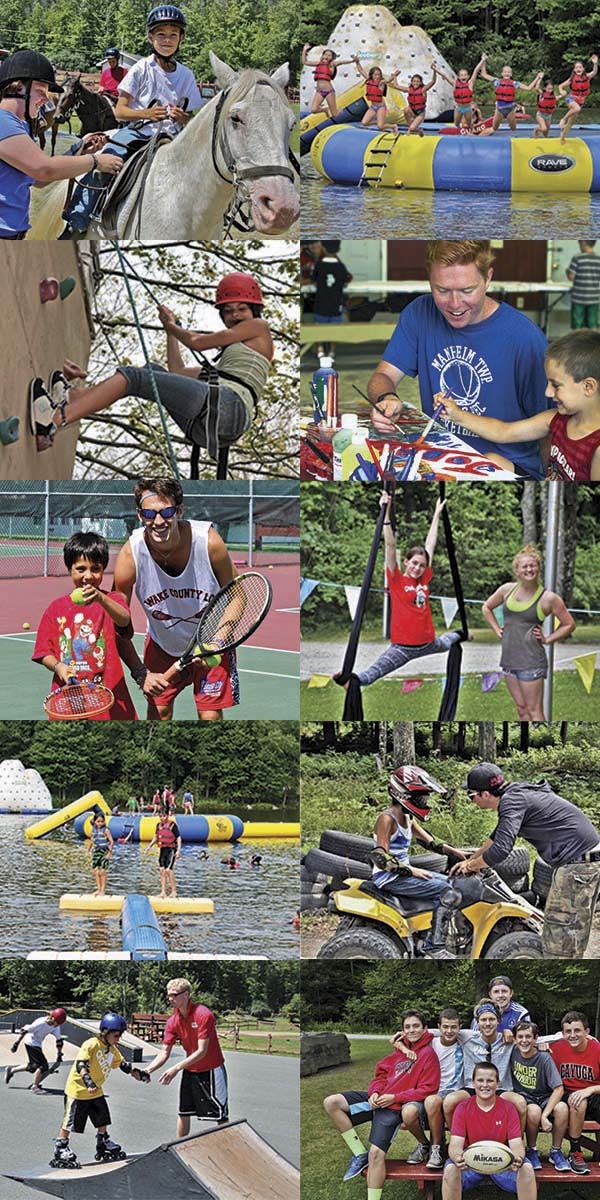 Competitive salary, travel allowance, meals, lodging, and laundry service are provided. We pay top dollar! FREE CAMP TUITION for senior staff members ($10,000+ value). Counselors generally collect tips totaling $400 to $1500. Only 2½ from NYC and Philly.

DESCRIPTION OF CAMP CAYUGA:
* Private, coed, nonsectarian, sleepaway camp.
* Located in the Pocono Mountains of Pennsylvania, Wayne County.
* 2½ hours from New York City and Philadelphia.
* 390 normal average children ages 6 to 16.
* Diverse camp population from 26 states and 17 countries.
* Separate Teen Campus reserved just for teens!
* Each camper is under the close care of at least 2 cabin counselors.
* 135 counselors who are entering sophomore year of college or older.
* 40 Senior Staff who are professional educators, teachers, nurses, and
* Each activity department is supervised by an Activity Director who is assisted by the activity instructors.
* Staff to camper ratio is better than 1 to 4.
* Over 60 daily activities.
* Free-choice activity program for 5th graders and older.
* First-Time Camper Guarantee!
* Family owned and operated since 1963.
* Comprehensive Facilities. Modern Cabins.
* ACA accredited camp.

SEEKING QUALITY STAFF:
* Our success in camping is directly related to the quality of our staff, who are dedicated to providing a safe, fun, and nurturing environment for our campers.
* We are seeking individuals with high moral character who exhibit strong leadership skills, good sportsmanship, and the ability to work hard.
* If you consider yourself a good role model and have a genuine interest in working with children, we encourage you to apply.
* Our staff members are successful because they're patient, enthusiastic, have a good sense of humor, and possess a friendly outgoing personality.

JOB BENEFITS:
* FREE camp tuition for children of senior staff members.
* Competitive salary & travel allowance.
* Meals, lodging, and laundry service are provided.
* Nights-off and days-off are scheduled throughout the summer.
* Staff gratuities range between $400 to $1500.
* Staff Lounge with internet access & satellite television.
* Precamp and Postcamp employment is available.
* Accept challenging responsibilities, and gain valuable lifetime rewards.
* Make a positive impact upon the lives of our campers.
* Meet children and high-caliber staff from around the world.
* Develop strong life-long friendships.
* Camp Cayuga is a FUN place to spend your summer!

OVER 175 STAFF POSITIONS

ART DIRECTORS:
* Seeking artistically-creative and talented individuals to lead our Creative Arts Program, which features a broad spectrum of activities that provide campers the opportunity to artistically express themselves.
* The Creative Arts Staff is comprised of 5-6 Directors who are typically certified art teachers.
* Assisting the Art Directors are 10 university-level instructors who typically are majoring in creative arts, and the like.

20+ MEDICAL STAFF:
* Licensed professionals who are suitably qualified to monitor and care for the health & well-being of our campers/staff.
* Medical team includes 8 to 10 individuals with RN, NP, PA, LPN, EMT, or MD.
* Each campus (Junior Campus & Teen Campus) features its own health center.
* Private accommodations with your own private bathroom is provided.
* 8 week, 4-week, and 2-week positions available.

ACTIVITY DIRECTORS:
* Activity Directors are members of our Senior Staff, who are typically professional educators, school teachers, coaches, and guidance counselors.
* Activity Directorship Positions: Athletic Directors, Tennis Director (USTA pro), Intercamp Tournament Directors, Horsemanship Director, Pool Directors, Lake Director, Adventure & Wilderness Director, Flying Trapeze Director, Circus Arts Director, Creative Arts Directors, Pottery Director, Ceramics Director, Performing Arts Director, and Extreme Sports Director.

10+ DIVISION DIRECTORS:
* Division Directors are senior staff members, who set the 'tone' for Cayuga's family atmosphere. They monitor the care & safety of campers/staff in your division; assist counselors & provide guidance with camper homesickness; and communicate with parents of campers who may be experiencing difficulties in camp.
* The typical 'Division' includes 50-70 campers and 10-15 counselors.

40+ SENIOR STAFF LEADERSHIP POSITIONS:
Seeking mature individuals to fulfill various supervisory positions including: Division Directors, Head Counselors, Day Program Directors, Evening Entertainment Directors, Special Event Directors, Trip Directors, and Health Supervisor.

ADMINISTRATIVE & SUPPORT STAFF:
* Seeking 6-10 enthusiastic individuals who can assist with: telephone answering; mailings; data entry into computer; website design; computer specialist; record keeping, filing, copying, and other general office duties.
* Positions: Academic Tutors, ESL Tutors, Canteen Supervisor (camp store), Camp Photographer, Maintenance Director, Transportation Director, Mechanic, Bus Drivers, and CDL Drivers.

FOOD SERVICE STAFF:
* Seeking Food Service Professionals who have experience and expertise in quantity food production.
* Positions: Food Service Director, First Chef, Second Cooks, Dining Hall Manager, Pot Washers, Dishwashers.

135+ ACTIVITY INSTRUCTORS:
* Seeking multi-talented energetic counselors who can provide quality instruction from beginner to advanced levels in two or more land sports.
* Instruction is geared to the camper's individual skill level, and is patient and thorough with due regard for both safety and enjoyment.
* Cayuga's Daily Program offers activities in Athletics (tennis, basketball, fencing, etc), Water Sports (lifeguards, WSI, sailing, etc), Creative Arts (pottery, ceramics, silk screening, etc), Performing Arts (drama, music, dance, etc), Media Arts (photography, radio DJ, etc), Adventure & Wilderness (survival tactics, ATVs, rock climbing, etc), Extreme Sports (bungee jumping, ATVs, paintball, skateboarding, etc), Horseback Riding (horse care, jumping, etc), Flying Trapeze and Circus Arts, and more.
Annual
Sports
Archery
Baseball
Basketball
Bicycle
Field Hockey
Roller Hockey
Football
Golf
Gymnastics
Lacrosse
Riflery
Soccer
Softball
Tennis
Volleyball

Waterfront
Waterfront Counselor
Canoeing
Fishing
Kayaking
Rafting
Sailing
SCUBA
Snorkeling
Swimming
Water Polo
Windsurfing

Academic
Computers - Gaming
Teacher - General
Science
Language
Environmental Education
Camp Newspaper

Kitchen
Cook
Food Prep
Baker
Dishwasher
Nutritionist

Arts & Crafts
Ceramics
Fabric Design
Jewelry Design
Woodworking
Painting And Drawing

Other Positions
Circus Arts
Flying Trapeze
Paintball
Suzuki ATVs
Skateboarding
Trampoline Bungee Jumping
Foil Fencing
Survival Skills
Rock Climbing
Zip Line
Aerobics
Yoga
Cheerleading
Mountain Biking

Health & Safety
Doctor
Nurse
Nurse's Assistant
EMT
CPR Instructor
First Aid Instructor
Lifeguard
Water Safety Instructor

Performing Arts
Drama
Dance
Acting
Circus
Music

General
Camp Counselor
Assistant Director
Program Director
Maintenance Positions
Office Positions

Miscellaneous
Photography
Radio
Horseback Riding
Outdoor Trip Leader

Summer Address
321 Niles Pond Rd, Suite ICCH
Honesdale-Pocono Mountains, PA 18431
570-253-3133 (tel.)
Winter Address
P.O. Box 151, Suite ICCH
Peapack, NJ, 07977
908-470-1224 or 800-4-CAYUGA (tel.)
908-470-1228 (fax.)